Motorcycle Drag Racing : A History
by John S. Stein

There is a line in a Lovin' Spoonful song that says, "It's like trying to tell a stranger about rock 'n roll." Motorcycle drag racing is a bit like that. To those who follow it, the sport makes perfect sense. To those who don't, it makes none at all. This book is for both.
At 244 pages and nearly 3 pounds, this book is quite large. With so much to explore, it had to be. Organized motorcycle drag racing began nearly 60 years ago, and an incredible amount has happened since then.
While much of the change has involved the machinery—and the book discusses it in great detail – it is the people that make the sport so fascinating. And in the book, more than 500 of them are discussed.
In the words of former Cycle editor, Cook Neilson, "Stein gives dimension and warmth to the people who built and rode these bikes, some of whom are still banging their heads against the quarter-mile reality. Clem Johnson. Sonny Routt. Boris Murray. John Gregory. Leo Payne. Byron Hines. Joe Smith. Dozens more. Geniuses all, innovators all. John Stein has done them – bikes and men – proud."
HAVE A PEEK The nice thing about buying from a bookstore is that you get to browse through the book before you buy it. We're doing that here as well, and have chosen a representative chapter. If you like it, great. There are 18 more where it came from—covering everything from Pro Stock Motorcycle to Top Fuel, and from Sanctioning Bodies to Great Rivalries. Click here or on the book to read excerpt.
Quarter Milestones: A DVD History Of Motorcycle Drag Racing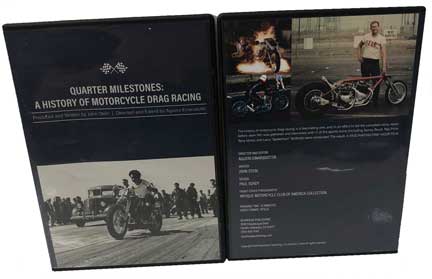 The history of motorcycle drag racing is a fascinating one, and in an effort to tell the complete story, never-before-seen film was gathered and interviews with 17 of the sport's icons (including Sonny Routt, Ray Price, Terry Vance, and Larry "Spiderman" McBride) were conducted. The result: A FASCINATING ONE- HOUR FILM. Quarter Milestones: A Dvd History Of Motorcycle Drag Racing is a must see if you love this sport.
| Part Number | Description | Racer Price | |
| --- | --- | --- | --- |
| 1-0669 | Motorcycle Drag Racing: A History by John S. Stein (currently unavailable) | $40.00 | |
| 1-0669-DVD | Quarter Milestones: A DVD History Of Motorcycle Drag Racing By John S. Stei | $19.95 | |

Eat My Ink Videos
To view the highlights you must have Apple's free Quicktime Player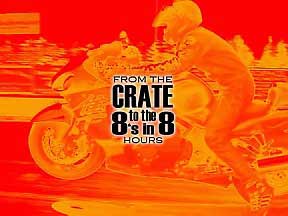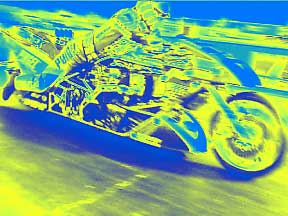 THE ULTIMATE TUNER CHALLENGE!
With the clock running and the weather not cooperating, Joe Marasco started to doubt the wisdom of his self-imposed challenge: to take a stock Hayabusa still packed in its shipping crate, assemble it, establish a baseline, and put it into the 8 second bracket in an 8 hour workday! With the help of his MSP Suzuki crew, Dan Rudd of MPS Racing, and rider Stu Hamby, Marasco sweats it out. Has he wasted his cash and reputation?
WHEELIE-BAR MIX ONE
(2 DVD Set)
Prostar World Finals 2001
World Finals 2002
Rockingham 2000
Star-Area 51 test 2003
AHDRA MIR 2003
Prostar Indy 2003
ST LOUIS CHAOS
A 1 hour NTSC DVD covering the 2005 AMA/Prostar Streetbike Chaos event at Gateway International Raceway near St. Louis. Featuring awesome footage of MSP's Josh Davis bursting into flames as he speeds through the traps at nearly 170 mph! Also featuring grudge races with Keith Dennis and Lil' Fred, though not racing each other.
| Part Number | Description | Racer Price | |
| --- | --- | --- | --- |
| 1-0372 | Video - Crate to the 8 | $23.10 | |
| 1-0402 | Video - St. Louis Chaos | $23.10 | |
| 1-0373 | Video - Wheelie-Bar Mix One | $34.65 | |