MPS Igniters for 2 Wire Coils

Holley Four Channel Coil Driver Module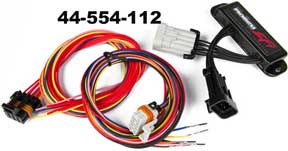 The four channel coil driver module is used to drive a two wire "dumb" ignition coil. Holley EFI ECUs require this coil driver module when running two wire "dumb" coils. Each module can drive four coils, so two are required for an eight cylinder engine that uses eight coils. Included is the coil driver module, an input harness with pins that can be connected directly into the HP or Dominator ECU, and an output harness with pigtail ends. The user must connect these to their specific coils.
FuelTech SparkPro-4
Features: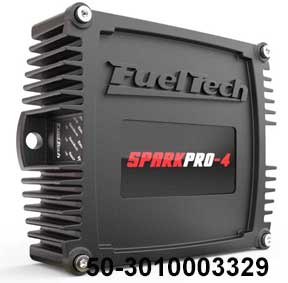 High energy inductive ignition
Versions from 1 to 6 ignition outputs
High Voltage at the coil's primary: up to 430V
Technical Description
Used only with "dumb" coils (coils without igniter)
Each SparkPRO channel can be connected to only one coil at a time
Compatible with any programmable ECU that has dwell control
Cannot be used with stock ECU
Dimensions: 115 x 90 x 33mm
EnergyCoil 4 Channel Igniter Coil Driver

The Energycoil Racing Quad Channel Igniter is a high current, inductive ignition unit using the most efficient MIL SPEC components available. The ECR igniter is ideal for standalone engine management applications wishing to use a high performance inductive ignition with 2 wire ignition coils without a built in driver. Most igniters on the market today, such as the Bosch ignition module style units, are current limited at 7-10 amps as well as rpm limited. Our ECR igniter is a non current limited, continuous use driver solution, capable of running on 12 to 24 volt systems with a continuous 30 ampere output and 50 ampere burst output per channel.
At ECR we use the latest and most efficient surface mount design with MILITARY SPEC SMD technology, for an ultra compact, high output solution that has exceptional electronic characteristics. Sourcing the proper components to ensure the highest quality with repeatable performance is of the utmost importance to ECR. As a result, it surpasses all other igniter modules with a 50% faster switching response time over our competition, and a 6x faster response time then the BOSCH style ignition modules. All of this equates to a more efficient, hotter, consistent spark output. This, combined with it's high output characteristics make it exceptional at resisting spark fouling and offers extremely reliable ignition events in adverse combustion chamber conditions.
Other features which separate Energycoil Racing from the crowd are our highly isolated TTL signal circuits, resulting in further improved performance and reliability. Additional 400V output clamp system circuitry also improves output and monitors common, differential, and flyback ignition noise to improve ignition performance
| Part Number | Description | Racer Price | |
| --- | --- | --- | --- |
| 1-0631-NW | MPS Igniter for 2 Wire Coils No Wires, Connectors Included | $114.45 | |
| 1-0783 | MPS Igniter Only | $82.95 | |
| 1-0773 | MPS Igniter Connector 5 Conductor Female | $10.49 | |
| 1-0774 | MPS Igniter Connector 4 Conductor Female | $10.49 | |
| 44-554-112 | Holley 4 Channel Dumb Coil Driver | $152.95 | |
| 50-3010003329 | FuelTech SparkPro-4 w/o harness | $219.00 | |
| 50-2001000051 | FuelTech SparkPro-4 Harness 6ft | $25.00 | |
| 25-ECR-IGN4-30AMP-B | EnergyCoil Igniter 30 AMP | $449.99 | |