MPS Air Throttle Stop
If you want to win, you gotta run the number!
The MPS Air Throttle Stop is the best way to adjust your ET.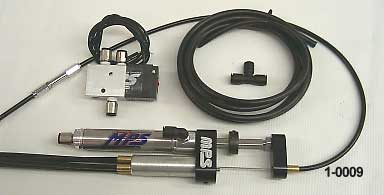 That's right, we improved the already awesome MPS Air Throttle Stop. We made it smaller by incorporating an adjustment lock collar directly to the air cylinder. By using this design we were able to eliminate the extra adjustment rod completely. The air cylinder screws directly onto the mount. This eliminates the set screws being tightened down on the thin stainless steel cylinder. This prevents any possibilities of bending the cylinder and binding the piston inside. We have eliminated the ball chain as well, eliminating all possibilities of breakage.
For those of you who are new to Throttle Stops, they are designed for slowing down a bike to run a specific index while still maintaining high MPH. The new MPS Air Throttle/Stop is used with the following timers: Dedenbear Throttle Stop Controllers P/N 11-TSC-2 or P/N 11-TSC4, Dedenbear Command Center P/N 11- CC3, K&R Pro Cube P/N 30-PCT1, P/N 30-PCT2, and P/N 30-PCT3. This is the only NHRA legal throttle stop for a motorcycle and is available for Lectron carbs P/N 1-009 and Mikuni type carbs P/N 1-0091. Operation is simple, just set the amount you want the carb slides to drop during throttle stop operation (adjusts from 0"-1.5") with the adjustment lock collar. The Throttle Stop Controller controls when and how long the throttle stop is activated. After leaving the starting line the carb slides will drop to the preset point where they will stay until the timers deactivate it allowing the slides to return to wide open throttle. Through all this your hand remains at full throttle. It will not turn your throttle grip! The speed that the slides open and close can be adjusted independently of each other and can be made to open fast or slowly. This lets you dial in an easy roll on or roll off the throttle. Using the throttle stop right off the starting line can eliminate wheel spin entirely for the ultimate in consistent 60 footers. The Air Throttle Stop comes with a throttle cable, electric air valve, air tee, air line, and installation instructions. The Throttle Stop Controller is not included and should be purchased separately.
| Part Number | Description | Racer Price | |
| --- | --- | --- | --- |
| 1-0009 | M P S AIR THROTTLE / STOP (LECTRONS) | $460.85 | |
| 1-0091 | M P S AIR THROTTLE / STOP (MIKUNI) | $460.85 | |
| 1-0147 | M P S AIR THROTTLLE/ STOP (TURBO) | $460.85 | |
| 1-0343 | M P S UPGRADE THROTTLE STOP | $229.95 | |
| 1-0149 | MPS Electric Air Valve - 4 way | $114.35 | |