MaxxECU Sport ECU

MaxxECU Sport ECU features a fast Cortex M3 CPU with Bluetooth connectivity and CAN bus communication. Super fast 1000 Hz (1000 samples/second) internal data logging. A Built-in wideband (O2) lambda sensor supports both Bosch LSU 4.2 and 4.9 sensors connected directly to the ECU without any additional electronics. The 3 bar (43.5 psi) MAP sensor is built into the ECU so no additional MAP sensor is needed. The MaxxECU Sport also features: launch control (2 step), turbo anti-lag, turbo boost control, Shift cut (air shift kill), and traction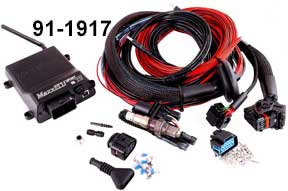 control. MaxxECU Sport also supports variable valve timing.
MaxxECU SPORT inputs:
Built-in MAP-sensor up to 3 bar / 43.5 psi of boost
Intake air temperature sensor (IAT)
Coolant temperature sensor (CLT)
Throttle position sensor (TPS)
1 Wide band O2 (Lambda) sensor (Bosch LSU 4.2 or 4.9)
2 Trigger inputs. (crank & cam) VR or digital. Automatic trigger level detection. These signals are processed by a completely separate processor for maximum performance and immunity against interference
6 Analog 0-5V inputs. (pressure & position sensors)
2 Temperature sensor inputs. Can be used as switch inputs
2 Digital inputs (Hall effect speed sensors) or switch inputs
MaxxECU SPORT outputs:
6 peak/hold injector outputs (8A per output)
6 ignition outputs. 5V signal to drive ignition module or smart coils
7 outputs (Ground) for extra features. 6 (2 Amp) and 1 (5 Amp) These can be used to control virtually anything like:

Fuel pumps
boost solenoids
nitrous solenoids
shift lights
shift solenoids
fans
idle control
warning lights, etc.

2 stepper motor outputs (e.g E-Throttle)
MaxxECU SPORT technical Data:
CAN bus for expansion modules, OEM vehicle CAN, ODBII
USB communication for tuning with MTune
Bluetooth for connecting to mobile devices with MDash
8MB memory for internal logging, up to 1000Hz
Supply voltage 8-22V
ARM Cortex-M3 120MHz main processor
Resolution on ignition: 0.1 degrees
Resolution on injectors: 0.001 ms
Updates the fuel and ignition calculations 2000 times per second
The fastest PC communication on the market
Weight: 590g (1.3 lb)
140x134x42mm (including mounting points, excluding connector)
Aluminium casing
MaxxECU Race ECU

MaxxECU Race ECU features a fast Cortex M3 CPU with Bluetooth connectivity and CAN bus comminication. Super fast 1000 Hz (1000 samples/second) internal data logging. A Built-in wideband (O2) lambda sensor supports both Bosch LSU 4.2 and 4.9 sensors connected directly to the ECU without any additional electronics. The 3 bar (43.5 psi) MAP sensor is built into the ECU so no additional MAP sensor is needed. The MaxxECU Race also features: launch control (2 step), turbo anti-lag, turbo boost control, Shift cut (air shift kill), and traction control. MaxxECU Race also has 2 knock sensor inputs to control detonation and 8 EGT inputs that EGT probes can plug in directly. The MaxxECU Race also supports variable valve timing.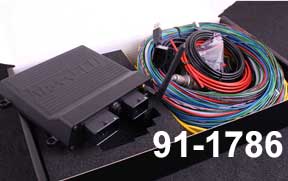 MaxxECU RACE inputs:
Built-in MAP-sensor up to 3 bar / 43.5 psi of boost
Intake air temperature sensor (IAT)
Coolant temperature sensor (CLT)
Throttle position sensor (TPS)
1 Wide band O2 (Lambda) sensor (Bosch LSU 4.2 or 4.9)
2 Trigger inputs. (crank & cam) VR or digital. Automatic trigger level detection.
These signals are processed by a completely separate processor for maximum performance and immunity against interference
6 Analog 0-5V inputs. (pressure & position sensors)
2 Temperature sensor inputs. Can be used as switch inputs
4 Digital inputs (Hall effect speed sensors) or switch inputs
2 Knock sensor inputs
8 EGT TYPE-K/N inputs (1200C/2200F) in separate harness
MaxxECU RACE outputs:
8 peak/hold injector outputs (8A per output)
8 ignition outputs. 5V signal to drive ignition module or smart coils
9 outputs (Ground) for extra features. 9 (2 Amp) and 1 (5 Amp) These can be used to control virtually anything like:

Fuel pumps
boost solenoids
nitrous solenoids
shift lights
shift solenoids
fans
idle control
warning lights, etc.

2 outputs (+12V) for extra features. (2 Amp)
4 stepper motor outputs (e.g E-Throttle)
MaxxECU RACE technical:
CAN bus for expansion modules
OEM vehicle CAN, ODBII USB communication for tuning with MTune
Bluetooth for connecting to mobile devices with MDash
8MB memory for internal logging, up to 1000Hz.
Supply voltage 8-22V
ARM Cortex-M3 120MHz main processor. Three extra processors to handle the trigger, injectors and knock detection
Resolution on ignition: 0.1 degrees
Resolution on injectors: 0.001 ms
Updates the fuel and ignition calculations 2000 times per second
The fastest PC communication on the market
50Hz sampling rate on all EGT inputs
1000Hz sampling rate on all analog inputs
Weight: 880g (1.94 lbs)
155x195x40mm (including mounting points, excluding connector)
| Part Number | Description | Racer Price | |
| --- | --- | --- | --- |
| 1-0925 | MPS Maxxecu Sport Kit - 1-0893 Terminated Harness - Igniter - O2 Sensor | $2,257.50 | |
| 1-0926 | MPS Maxxecu Race Kit - 1-0896 Terminated Harness - Igniter - O2 Sensor | $2,677.50 | |
| 91-1914 | MaxxECU Sport ECU Only | $1,247.00 | |
| 91-1916 | MaxxECU Sport Standard Kit | $1,338.00 | |
| 91-1917 | MaxxECU Sport Premium Kit | $1,429.00 | |
| 91-1816 | MaxxECU Race ECU Only | $1,444.00 | |
| 91-1817 | MaxxECU Race Standard (basic flying lead kit harness 1 and accessories) | $1,630.00 | |
| 91-1786 | MaxxECU Race Premium Flying Lead Kit | $1,750.00 | |