RSR Air Shift Module

The newest innovation from Ryan Schnitz Racing is the Air Shift Module. The Air Shift Module (RSR-ASM) combines all of the features many racers want into a compact, digital package loaded with adjustable features.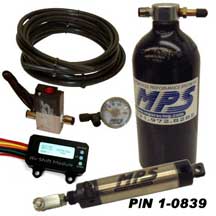 Coil or Fuel Injector Kill Mode allows the user to install the RSR-ASM to best fit their combination. Engine Kill Times are adjustable per gear shift. This is great for those with 1-2 or 1-2-3 Auto Transmissions, or those who may need to adjust kill time for added power down track. Adjustable Solenoid Advance Time allows the solenoid to apply pressure to the shift linkage before the engine kill sequence begins to allow faster shifts with less delay. Auto Shifting built right into the controller with no need for added boxes or chips. Can be wired to ground or +12v shift buttons for manual shifting. Works on any motorsports engine with a digital ignition (Not CDI) 1, 2, 3, or 4 Cylinders.
Features:
Ignition Coil or Fuel Injector Kill Mode
Adjustable Shift Count (Number of shifts)
Adjustable Kill Time Per Gear Shift 0-150ms in 1ms Increments
Adjustable Solenoid Advance Time 10-40ms in 1ms Increments
Adjustable Auto Shift RPM 2000-16,000 RPM in 10 RPM Increments Per Gear
Adjustable Tach Input Frequency
Adjustable Shift Input Polarity (Ground or +12v)
Tech Notes:

The voltage regulator and front end circuitry is automotive rated 24 volt load dump, 16 volt operating
The main factor is that when the voltage goes up the current increases as well
Has been tested up to 14.4 volts on the bench
16 volts should be ok provided the current does not exceed 12 amps continuous
The fuse is 15amps, however if taken to this level it will eventually blow
MPS RSR Shift Module Wire Harness

The MPS RSR Shift Module Wire Harness was designed with ease of install in mind. This harness requires no cutting or splicing into your factory harness. It also includes a toggle switch to revert to normal horn functions and enable the programming mode on the RSR module. The harness uses the ignition kill strategy and plugs directly into the ignition coils and the stock harness. The harness converts your horn switch to your shift button when the toggle switch is in the shift position. When switched to the horn position the horn will work normally and the RSR module returns to programming mode. The RSR module 10 pin connector is a match to the RSR modules sold by MPS. If your RSR module doesn't have this connector you will need to install it or send your RSR module to MPS for installation.
| Part Number | Description | Racer Price | |
| --- | --- | --- | --- |
| 34-rsr-asm-b | RSR Air Shift Module | $239.00 | |
| 1-0839 | MPS Air Shifter w/ RSR Air Shift Module | $492.45 | |
| 1-0840 | MPS Air Shifter w/ RSR Air Shift Module Minus Bottle | $439.95 | |
| 1-0903 | MPS RSR Shift Module Plug and Play Harness Suzuki | $177.45 | |
| 1-0903-K | MPS RSR Shift Module Plug and Play Harness Kawasaki | $177.45 | |